See on Scoop.it – biomimicron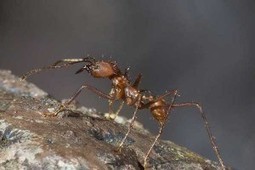 Can innovators learn anything about sustainability from the minimalist lifestyle of a two-toed sloth? This question occurred to me Wednesday during the Fou
David Parr's insight:
Interesting to see na economic publication both acknowledge biomimicry, but also make the point that in order to be 'valued' it must be technical and able to prove benefit.
Good to see some hard figures on growth of the 'industry' too, and plans for expansion and public awareness of the process. That said, I'd love to know how they calculated that "By the year 2030, bioinspiration in the U.S. could account for $425 billion" or that it would account for 15% of industry sales in chemical manufacturing and account for an equal amount in materials".
And economists say bio-inspiration struggles with a reputation as a soft science….
See on www.xconomy.com